Vanilla from Madagascar is a culinary treasure derived from the precious orchid Vanilla planifolia, cultivated in the fertile lands of Madagascar. Known for its enchanting aroma and exquisite flavor, this vanilla is renowned worldwide.
Native to tropical lands, the vanilla vine thrives in a warm and humid climate, requiring stable temperatures. While periods of drought promote flower induction and pod maturation, the plant relies on abundant and regular rainfall. High humidity favors its growth, while light shading provides the ideal light conditions for vanilla plant development. In Madagascar, the SAVA region offers all the ideal conditions for cultivating this orchid, spanning from sea level up to an altitude of 700 meters.
2. Crop Cultivation Process:
1. Hand Pollination of Flowers.
2. Ripening of Pods and Harvesting.
3. Blanching of Pods.
4. Curing of Pods.
5. Sun Drying.
6. Shade Drying.
7. Aging.
8. Packing.
9. Grading.
10. Measuring.
11. Bundling.
12. Gauging.
13. Storage.

3. Méthodes de Récolte et de Transformation
We follow a rigorous method of harvesting and processing to ensure the quality of our vanilla pods. After measuring and grading the pods based on their length and color, we bundle them together and pack them in specific packaging. Our products are directly sourced from the SAVA region of Madagascar. Prior to shipping, each pod undergoes a thorough quality and safety check through strict controls, including laboratory analysis to measure vanillin and moisture levels. We also ensure traceability and phytosanitary control to guarantee the origin and compliance of our products.
BOURBON VANILLA LABEL, produced from the famous VANILLA PLANIFOLIA variety. This vanilla is distinguished by its characteristic flavor, harmoniously combining notes of vanilla and fruits, as well as its rich and captivating aroma. Its exceptional quality is recognized by the presence of vanillin crystals on the surface, a sign of top-grade vanilla. We offer a diverse range of three categories.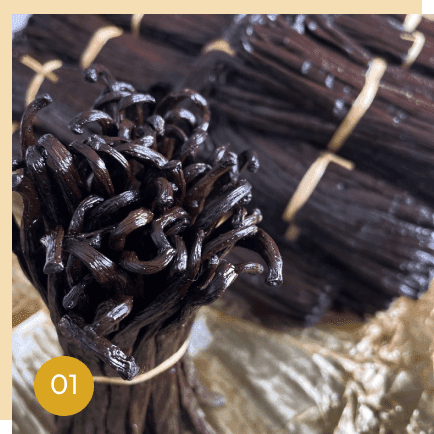 01. Premium and Gourmet Black Vanilla,
Discover our Premium Black Vanilla, the jewel of our selection, offered by Stoi Agri Madagascar. Each pod is carefully chosen for its perfection: whole, unsplit, in impeccable health, and with exquisite suppleness. Adorned with a uniform dark brown or chocolate brown color, these fleshy pods reveal incomparable flavors. With a maximum moisture content of 38%, they have a minimum length of 14 cm, ensuring superior quality. The longer the pods, the higher the vanillin content. Our Premium pods measure 17 cm and above, while our Gourmet pods measure 13 cm and above. Premium Black Vanilla offers rich, rounded, warm, and chocolatey flavors, while still maintaining a gentle sweetness. It is ideal for home cooking, desserts, ice creams, pastries, as well as high-end applications in confectionery, pastry, and chocolate-making. Let yourself be seduced by the unmatched essence of our Premium Black Vanilla.
Discover our range of Red Vanilla, comprising unique varieties. The Red Vanilla, or "Red US," is characterized by whole, unsplit or split pods with a reddish-brown color and a maximum moisture content of 25%. It offers distinct flavors of vanilla, leather, prunes, and tobacco in the unsplit pods, and notes of red fruits in the split pods. Our "Red Europe" or "Soft Red" presents flexible or dry pods with spots, wrinkles, and some red veins, offering sweet vanilla flavors with hints of leather, honey, and damp undergrowth. Finally, our Superior Vanilla, called "TK," consists of whole, unsplit, fleshy, and supple pods with a dark brown or chocolate brown color. It offers sweet vanilla flavors accompanied by hints of cocoa, warm honey, moist floral undergrowth, as well as sweet red fruit or fig aromas in the split pods.
03. Short and Cuts (vanilla pieces)
Our Vanilla Cuts are carefully prepared from vanilla pods, whether split or unsplit, and intentionally cut into pieces. These healthy and high-quality pieces offer specific dry flavors, sometimes delicately roasted, with a dark brown color for our premium cuts or a reddish hue for others. They have a maximum moisture content of 25% and a length of less than 5 cm. Additionally, whole pods, whether split or unsplit, measuring less than 10 cm, are also considered cuts. Discover the versatility and convenience of our STOI Vanilla Cuts.